Are you building a landing page with a form to sign up for a free webinar? Or maybe you are planning a mailing campaign to encourage entrepreneurs to try your customer's services?
If you use similar tactics at work, you take advantage of inbound marketing tools without necessarily realizing it. As many marketers do, especially in Central and Eastern Europe. Although there is no current data on the popularity of inbound marketing in the region, our experience as a Diamond HubSpot Partner shows that this methodology is still on the niche side here. Even initiatives such as Inbound Marketing have failed to popularize it enough.
But it's a matter of time before inbound takes over this part of Europe, too. How do we know? From experience. The inbound methodology is extremely popular among our Western clients, and we have been seeing an increasing interest in inbound among companies in the CEE region, too.
One reason is that inbound is ideal for fast-growth companies with limited budgets. It also profits B2B and technology organizations that need the right marketing tools to demonstrate the benefits of tech-oriented products to business decision-makers.
But before inbound marketing permeates the mainstream in the region, there's still some work ahead of us. Always open to educating our peers and clients about inbound, we've created a practical alphabet for implementing inbound strategy.
What is inbound strategy?
Most marketers have at least heard about inbound methodology, so we won't go into definitions. However, if you need a quick refresher, go to the most reliable source— HubSpot, where inbound was born.
Definition aside, we believe it's essential to understand how inbound tools are used concerning the buyer's journey:
Attract:

At this stage, the goal is to get the right people interested and stand out from the crowd. We do this with valuable content (articles, webinars, PPC, social media posts) that build brand authority and respond to the audience's needs.

Engage:

Secondly, we have to build lasting relationships with potential customers. For that, we collect information about them (e.g., through mailing campaigns, lead magnet forms, CTA, and bots) to personalize the published content.

Delight:

Customers want to ensure they have made the right choice. Email marketing, social media, chatbots, and personalized content make this task easier for them, boosting their loyalty and increasing the chances of repeated purchases.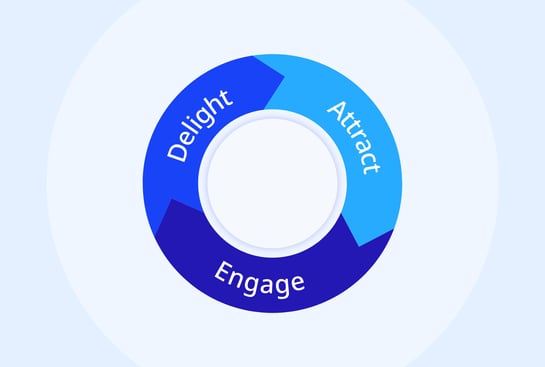 The alphabet of inbound marketing
To adapt inbound tactics to each stage of the buyer's journey, you need a solid foundation in the form of an inbound marketing strategy. Our alphabet will help you understand its most important elements, using the example of one of our clients, The Doctors Answer, a US healthcare call center provider whom we have supported in inbound marketing for the last 5 years.
A like automation
A well-planned and properly implemented inbound marketing strategy must rely on automation, which:
Allows you to monitor and understand the behaviors, motivations, and actions of leads and customers.

Helps to align sales and marketing activities.

Supports design and implementation of repetitive processes that save time and streamline campaigns.

Facilitates content personalization based on the collected data.

Enables building e-mail campaigns, social media messaging, or dynamic websites.
We have implemented a comprehensive strategy for our client in HubSpot (H like HubSpot), which offers several tools that automate marketing activities. Thanks to them, we can keep an eye on the campaign development, validate what works and what needs improvement, and test new solutions for optimizing results.
B like buyer's journey
The buyer's journey is essential for building an inbound marketing strategy. People at different stages of interaction with your brand are looking for different information—the task of inbound marketing is to match the offered content to their needs according to the following scheme:
Awareness:

At the first stage of the buyer's journey, the lead realizes that there's a problem they want to be solved. For example, a single practitioner notices they are losing patients. What is the reason? It can be identified through content such as blog articles, eBooks, or videos.

Consideration:

At this stage, our persona understands the root of the problem and seeks to resolve it. Our doctor can see that patient dissatisfaction can result from lower service quality caused by work overload and lack of time. Now, they are looking at how to fix it. Where to look? On expert blogs, solution comparisons, guides, and practical case studies.

Decision:

Nearing the end of the journey, the lead knows how to tackle the problem but must make the final decision about a specific product or service. After doing some in-depth reading, the doctor concludes that to rebuild their reputation, they need help from a medical call center, which will take over some administrative duties, making more time for patients. Which provider will they choose? The one that best presents its offer during a free consultation or a free trial period.
C like content
Content is an integral part of inbound marketing, so the two are often used interchangeably—wrongly so. Content marketing refers to creating and distributing content through channels such as blogs and social media. Meanwhile, inbound marketing activities are more strategic and focus on adjusting that content to a specific audience, optimizing it with SEO phrases, and analyzing data.
What content should look like to meet the requirements of inbound? First of all, it has to focus on the recipient and must be engaging, educational, and actionable. It also must be tailored to the particular stages of the buyer's journey.
Before you start creating content for your inbound strategy, you need to create a content plan that covers all phases of customer engagement. The content that we produced for our client focuses on presenting the advantages of call center services for various medical facilities and doctor's offices. The created pieces addressed questions such as: 'What can I do to find more time for my patients?', 'How to understand their needs?', 'Why do doctors need call center services?'.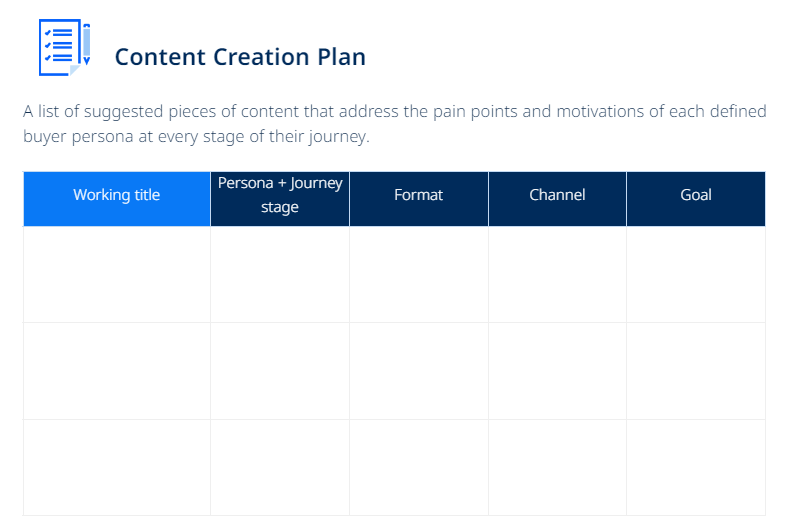 A content plan covering all personas and stages of a buyer's journey is a key element of an inbound strategy
H like HubSpot
HubSpot is the company where inbound marketing was born. Founded in 2005, it offers a CRM platform combining tools for marketing, sales, customer service, and CMS. Currently, the platform is used by over 167,000 users, who combine modules to match their unique sales and marketing needs.
We recommend HubSpot to our clients because it allows for comprehensive website development, sales improvement, and the creation and optimization of marketing campaigns. It also facilitates nurturing customer relations by delivering various monitoring, analysis, and communication tools. A properly implemented HubSpot system enables increasing website traffic and lead acquisition by up to 100%.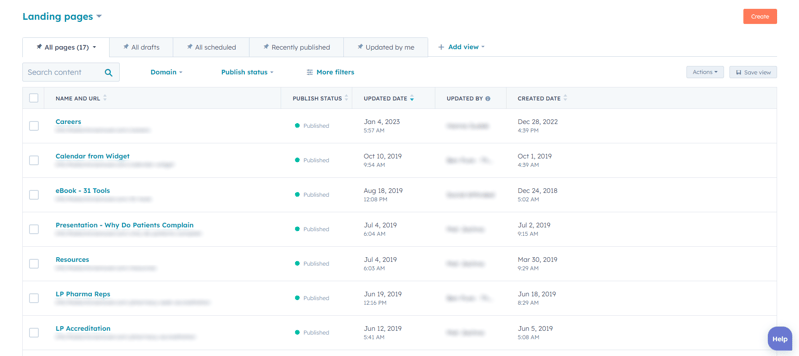 HubSpot enables comprehensive management of website content
M like media, social media
An ideal inbound marketing strategy also includes social media as a channel for content distribution, education, building brand awareness, and supporting lead generation. However, it must be remembered that it is a time-consuming medium, requiring a separate strategy and a person (or a team) to manage.
Smaller companies with a limited budget can use short-term, well-targeted paid advertising campaigns. They require less time and resources while being very effective. This tactic is adopted by our client, who uses social media for PPC campaigns promoting the company's offer to attract new customers.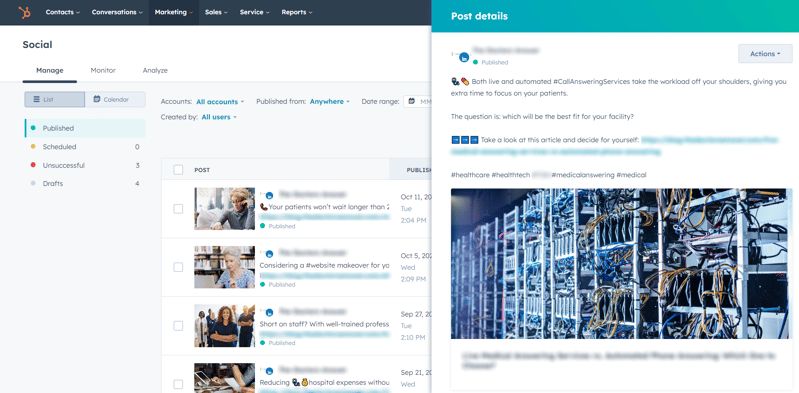 HubSpot lets you easily schedule the publication of posts, monitor followers' interactions, and analyze the statistics of individual campaigns
O like (endless) optimization
If you want to draw on the inbound methodology, you should use its tools agilely and always be ready for experiments. The core of the inbound strategy is continuous optimization. You create content, analyze the results, compare them with initial expectations, apply changes, and test new solutions. Constantly.
By analyzing our marketing activities, our client noticed that articles for dentists have a high conversion rate. We wanted to achieve the same for pharmacy owners. For that, we analyzed the blog, checked the performance of specific articles, and implemented actions believed to have the biggest chance of repeating the success of the first campaign.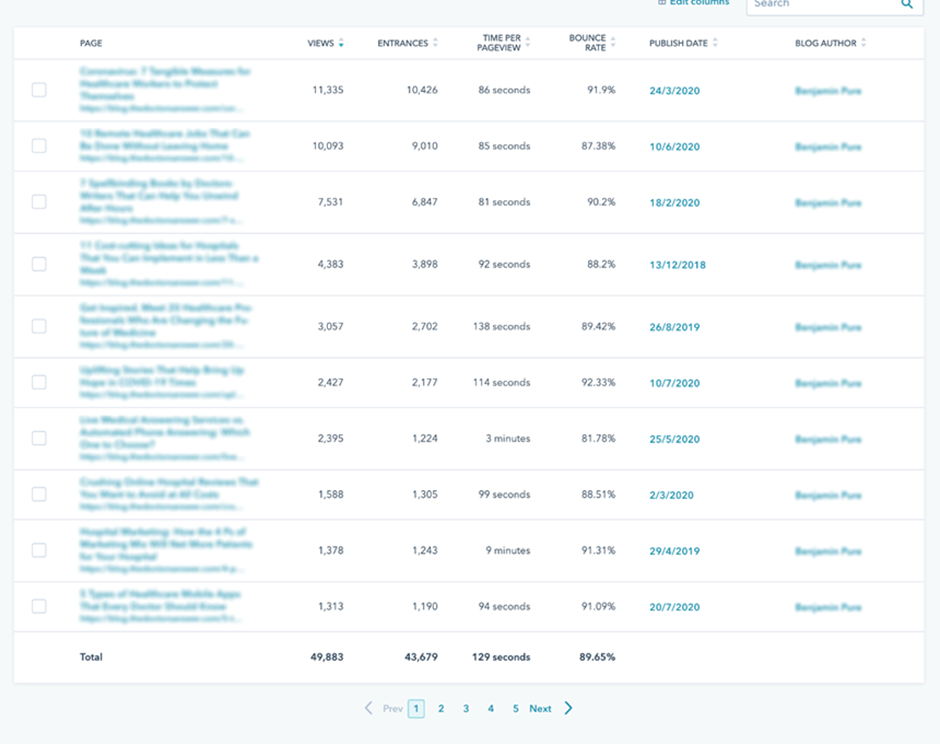 The analysis of the most frequently read articles allowed us to optimize the content for other audience groups
P like personas
The customer's persona represents the ideal recipient of a product or service. It helps understand the motivations, problems, goals, and behaviors of individual customer groups to create relevant and personalized content that serves them. This is a central stage of any inbound strategy, allowing one to see how to interact and whom to interact with to succeed. There are many tools to facilitate persona building, such as Make My Persona on HubSpot's website.
One of the key personas of our client is a single practitioner whose main goal is to provide the highest quality medical services and acquire new patients. Because solo doctors often work alone, it is difficult for them to maintain a work-life balance. Our client can give this persona more freedom by providing round-the-clock patient phone support and reducing the workload.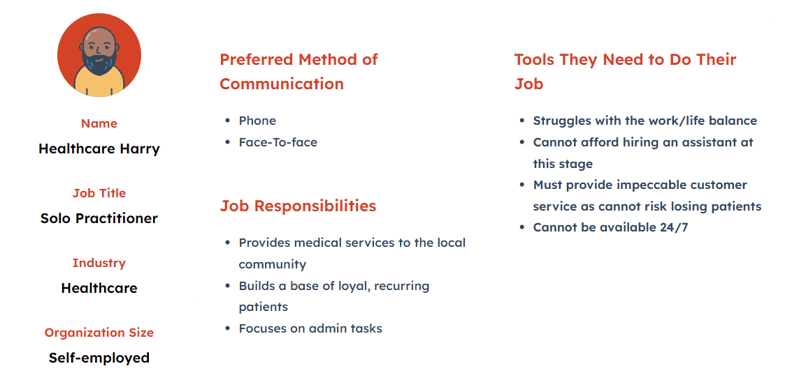 Persona reveals the problems and needs customers have
R like reports
Data is essential to optimize the inbound strategy continuously. On this basis, we can conclude and adjust the content to our recipients' needs. A good CRM system reveals data insights as easy-to-read, transparent reports.
When executing an inbound strategy, it is worth tracking such metrics as the cost of acquiring a lead, the cost of acquiring a client, traffic sources, most visited pages, bounce rate, inbound links, or keyword efficiency.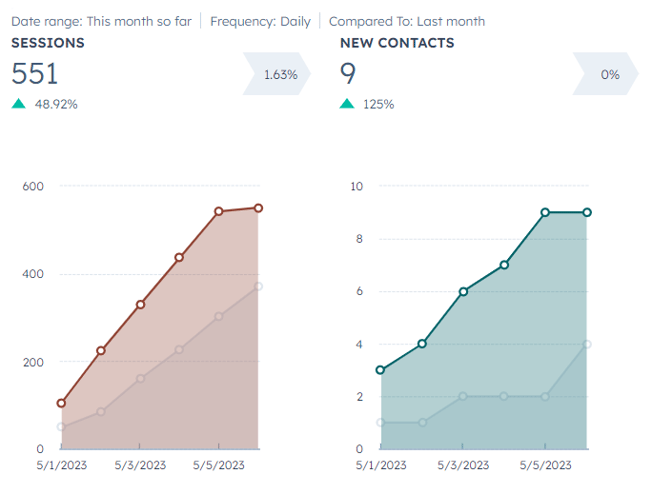 HubSpot's analytical tools show the data necessary for endless content optimization
S like SEO
Without SEO, even the most interesting content will not stand the test of time because it will not reach the right people. 53.3% of all website traffic comes from organic search, and keywords allow users to find answers to their questions. For example, when creating content for our client, we searched for phrases around "medical call answering services". We use them in articles, social media, and advertising campaigns, thus increasing the chance of a company appearing in search results.
Another element of inbound strategy related to SEO are bots that support users on the site. They help with simple queries while collecting data from visitors. This information can then be used to improve your marketing efforts.
T like the tone of voice
The tone of voice, or tone of communication, is a unique way in which a brand communicates with its audience. Customers like to interact with companies that have distinctive personalities and communicate using words and images that match their style and products. The brand voice should be in line with its values and mission. On this basis, you can choose a company voice that is closer to being funny, serious, professional, or more relaxed.
For our client, we have decided that the tone of voice should be direct, helpful, and professional but far from formal and authoritative. Occasionally, we allow ourselves to make humorous references that go down well with our customer audience groups.
$ like revenue
Many marketers feel discouraged by inbound marketing because it is a long-haul investment. In that, they tend to forget that the results of inbound activities are cumulative, and they are also stretched in time, yielding fruit long after the first launch. Statistics confirm this:
Thanks to a properly planned, systematic campaign, The Doctors Answer saw an increase in ROI of almost 40% in a year with minimal involvement of their marketing team. This shows that is worth leaving the development of marketing strategy to experienced inbound specialists. By doing so, you can easily observe how long-term investment translates into a gradual increase in your revenue.