We started 6Minded in 2015 as a remote company, but always with the view of ultimately launching a physical office where our creatives could collaborate and work together.
This vision has only partially come true to this day. Our team members are distributed across different geographies and are VERY mobile, so bringing them together is often impossible. Besides, the pandemic hasn't helped us realize this plan either.
Still, we do have an office in Krakow, Poland. And while everyone on the team is welcome to visit whenever they wish, this rarely happens. Our clients are also global (London, Zurich, Warsaw, Oslo, New York - you name it), so how we play is 99% remote.
But while our clients and employees might be based in various places worldwide, we keep our data, documentation, and collaboration under one online roof.
Here are 14 remote work tools that make it possible.
14 Remote work tools 6Minded couldn't thrive without
1. Zoom
To collaborate, we need to communicate. And while most of our interactions happen asynchronously via project management and collaboration platforms, we still believe that nothing compares to a quick video call when we lack clarity or need an issue to be resolved fast.
Interestingly, we have also found that some collaboration tools for remote teams can be highly disruptive when you're trying to get into the zone (see why we don't use Slack).
So, instead of initiating an endless string of back-and-forth or spending hours on email follow-ups, our team hops on a Zoom call when things need to get sorted quickly and efficiently. We also use it to discuss project status with our clients.
💡 Other remote collaboration tools like Zoom we occasionally use include MS Teams, Skype, and Webex.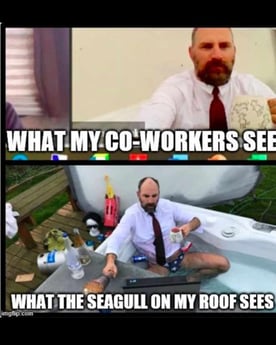 When on Zoom, we keep our cameras on;)
2. Asana
Asana is the ultimate teamwork management platform, of which we are hardcore fans. We use it to track and update every project, internal or external.
The main reason to fall in love with Asana is its clean, crisp user interface, which does all the project management job.
When anything needs to get done, one of our Project Managers creates a quick task in the selected project. Then, they provide the brief and the deadline and add any additional inputs, such as images, diagrams, or Client specs. Then, he or she assigns the task to the appropriate person in the team.
The assignee can trace all tasks in progress on a simple dashboard. Whenever updates occur (e.g., when a new task is assigned or someone adds a comment or a mention), the person in charge gets an email notification. This way, we can be 100% sure that everyone is in the loop and aware of their workload and deadlines.
On successful completion of over 120 projects spread over more than 8,000 tasks, we know this process works.
💡 Alternative solutions include Monday.com, Trello, ClickUp, and more. But having tried most of them, we still find Asana best suited for inbound marketing agency work.
3. Notion
While Asana is our go-to app for coordinating internal collaboration, when dealing with Clients, we opt for Notion. With this central project management hub, it takes only a few clicks to organize client-facing work into easily-manageable Kanban workspace boards.
Notion allows all processes to be easily mapped out into a board and assigned the appropriate status - one of "To-Do," "In Progress," or "Completed." Having project information presented in a condensed and visual format helps us stay on track and transparent with our Clients, who can immediately display the progress of each task.
Notion enables building Kanban management boards in a flash [Source: Notion]
💡 Confluence by Atlassian is another popular collaboration Wiki tool that uses Kanban boards. However, we find it more appropriate for enterprises, as it's a massive platform that offers a wide array of features (with added complexity).
4. Figma
Our creative team at 6Minded consists of professionals covering a variety of roles, from copywriters, UX designers to software developers. Figma brings all of their inputs together in one place.
The platform provides a collaborative interface for comprehensive website design tasks. It allows designers to build their website wireframes and prototypes from the ground up and bring them to life with smart animations and dynamic overlays.
When designs are ready, other team members can provide feedback through comments. This feature is also very useful when proofreading and verifying the final version of the website copy.
Additionally, Figma makes work much faster for us in pure HubSpot website implementation projects. This is because many of our Clients already use the tool (it's free and runs on Macs and PCs). It only takes them one click to share specs with our developers to be deployed in HubSpot.
💡 When it comes to design and prototype building tools, the choice is unlimited. Examples include Mockitt, Moqups, Whimsical, or InVision, which we also use at 6Minded (see below).
5. InVision
We've seen too many examples of done being better than perfect to chase perfection endlessly. To avoid getting stuck in an infinite loop of edits and iterations, we've developed a tried and tested process for website design. It makes life easier for everyone and allows us to proceed with work smoothly.
First, we collect customer inputs and requirements and pass them on to our experienced team members (using the collaboration tools for remote teams already described). Then, our experts get down to work on prototypes. They gather feedback in stages, apply necessary tweaks and updates, and keep rolling with the next batch of work.
To make all of that happen, we often use InVision.
6. UXPin
Even though UXPin is often listed side by side with InVision as a prototyping tool, we take advantage of these platforms slightly differently.
InVision is mostly used by our web designers, while UXPin is where our content creators and copywriters organize website copy before designers proceed with their work.
Instead of writing down all copy in a Google or Word document, our content specialists create landing page layouts with the final copy right away in InVision. These drafts are then shared for feedback with the Client, who comments on the wording and webpage layout simultaneously. This helps us save precious time and move on with our projects faster.
We are checking two tasks off the 'TO=DO' list simultaneously - that's super productivity!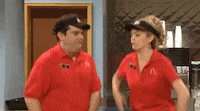 High five to us for making excellent use of remote collaboration tools
7. Miro
Another app we use to stay on the pulse with distributed projects and teams is Miro, an online collaborative whiteboard platform.
As a real-time board for remote teams, Miro does a great job at bringing team ideas together when we work on a website's architecture or need to map a sales process into HubSpot.
By enabling live comments and editing, this remote work tool gets as close to a face-to-face brainstorming session as possible. It also offers a visual mapping and diagramming feature to explain complex processes easily and agile workflows that provide immediate project visibility and transparency.
Miro is so efficient in organizing meeting notes and insights, that we even used it as a whiteboard during an on-site meeting with a Client sitting in the same room!
Clear visual graphs help us break down any process into easy-to-follow steps [Source: Miro]
8. PandaDoc
PandaDoc is a versatile document tool that offers various management functions for quotes, proposals, contracts, forms, and other document formats. However, we use it mainly to draw up client and freelancer agreements with templates prepared by our lawyers and get them signed online securely.
Streamlining document processes through automation, a drag-and-drop editor, and one-click uploads helps us eliminate paperwork and find more time for work (and play).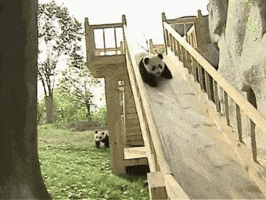 💡 Other remote work tools like PandaDoc include Autenti and DocuSign.
9. Stripe
Our business happens online. So do our payments, enabled by Stripe.
The online payment platform allows us to accept, process, settle, and reconcile payments from all our Clients, regardless of their country of business operations or the currency they use.
💡 Stripe is a good alternative to PayPal, with more customized options and extra features like extensive API integrations, embeddable checkout, or custom reporting.
10. Proposify
PandaDoc is excellent for contract drafting and signing, but when it comes to preparing proposals for our Clients, we prefer Proposify.
As the name suggests, the software simplifies proposal workflows by applying a scalable, traceable process to drafting and managing proposals. Reusable templates, workflow automations, and data integration make the deal design process smooth and error-free.
Additionally, Proposify allows our Clients to view and engage with proposals from any device and at any time they see fit. As a bonus, on our end, we can see which proposals perform best to identify the approach that brings the best results for our team.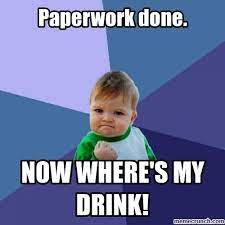 💡 If you are interested in features that Proposify offers, you may also like DealHub or GetAccept.
11. Google Docs
Blog posts, e-books, website copy, social media copy, ad campaigns... We produce copious amounts of text daily. Most of it is in Google Docs.
The tool needs no introduction, as it's used by millions of creatives worldwide to produce, edit, and share documents with their teams, wherever they are.
Cloud-based collaboration is the core benefit of the platform, but there are a few other things we particularly love ❤️ about Google Docs:
History tracking allows us to revert to the previous versions if anything goes wrong.
Interactive comments make asynchronous collaboration possible, which is especially important as we often work in different time zones.
Offline work mode allows our creators to progress with work under any circumstances, while they travel or when connectivity is down.
12. Google Drive / Dropbox
Remote work could not happen without the cloud.
Using cloud storage services allows our distributed team members to manage files, share data, and work together freely, regardless of their whereabouts. Additionally, they get things done faster, as instead of exchanging emails back and forth, they can organize all work in a shared workspace and collaborate synchronously and asynchronously.
At 6Minded, we use both Google Drive and Dropbox to backup and share work internally and with Clients.
13.
Password Managers
With so many apps in use, we must ensure all company and client data stays protected.
We implement various security measures to keep logins locked and data safe, which I won't detail in this post. However, I can disclose that password managers are one of the means to strengthen access security at 6Minded.
Tools like KeePass, LastPass, and Keeper provide trusted means to secure account details for all the different platforms and apps that remote teams use at work and save users the hassle of remembering tens of secure login/password combinations.
14.
HubSpot
It might be true that the shoemaker's son always goes barefoot. But not in our case.
As an inbound agency that implements HubSpot for other businesses, we use HubSpot extensively for our benefit.
Our website, blog, and landing pages - all run on the world's favorite CMR platform. We use its modules to reach our audience, grow traffic, engage with Clients, and automate low-value tasks.
From generating leads to sustaining customer interest,
we use HubSpot to deliver exceptional services from top to bottom [Source: HubSpot]
(🤫No, we don't use Slack)
Or sorry. That's a lie.
We occasionally use Slack when our Clients ask us to do so. But we never use it for internal communications or as the preferred method of interaction. And here's why.
Creative work thrives in the zone. And the more interruptions, the more time needed to return to that focused space. In a physical office, employees get constantly distracted by a quick word,' a 'short call,' or an innocent chit-chat. A few short interruptions here and there, and suddenly the entire workday is gone.
Of course, remote work has its challenges, too. Yet generally, most of our team members find a home-based work environment much more conducive to concentration and intense work than a traditional workspace, precisely because of the lack of such interruptions. As long as they don't use Slack.
As much as we tried to embrace Slack as a remote collaboration tool, it just didn't work for us. Even with status updates, paused notifications, and other features aimed to eliminate distractions, we still found it far more disruptive than useful.
So, instead of getting lost in a constant stream of DMs, conversation threads, and mentions on Slack, we communicate asynchronously on Asana via comments that don't get in the way of our work. While on Slack, we had to browse conversation history to find particular information; on Asana, all comments are displayed conveniently in the dashboard in the context of a specific task.
The best remote collaboration tool. What's your pick?
The above list is not exhaustive but provides a decent overview of how we get things done in our agency.
And how about your experiences? Have you used the above remote work tools to coordinate and manage remote work? Would you recommend other solutions?
Share your thoughts! We're always open to experimenting and finding new, better ways of doing things! Share and comment on LinkedIn or Facebook.