As your business grows, you'll eventually reach the point where you'll want to surpass your established customer base. Digital marketing is invaluable in that.
At first, you may be tempted to take care of it yourself. However, if you do, you'll quickly find how much effort promoting your business digitally involves. It's a lot of busy work between drawing up a digital marketing strategy, content creation, planning how to distribute it, and interacting with potential customers across all channels. Work that takes time and skill if you plan to succeed.
The good news is you've got a couple of options if you need help. This article explores these opportunities and explains how we handle digital marketing here at 6Minded.
Digital marketing: What are your options?
When considering how to approach your digital marketing efforts, several key factors come into play, from cost efficiency and effectiveness, through industry knowledge and research skills, expertise, and creativity to communication and collaboration.
Let's view the options on the table and see how they compare.
Hire a marketing specialist
The first option is recruiting an experienced marketer or a whole digital marketing team. This seems like a failproof solution. For the cost of a monthly salary (or a few), you hand over all digital marketing tasks, e.g., building a strategy, HubSpot implementation, or creating marketing assets, to specialists who know what they're doing and won't be making rookie mistakes.
However, there are a couple of risks to consider. First, you must remember that salaries won't be your only expenses. You'll also need to provide digital marketing tools that come either at a significant one-time price or as a regular license subscription.
Second, there's the time cost. The recruitment process takes a while, keeping you away from your day-to-day duties. After that, you'll need to invest even more time into onboarding and managing the in-house staff, especially if they're unfamiliar with the tools you've provided. Together, finding, hiring, and training a new team member may take up to several months!
Worse, you may need to wait longer to find out if the hire was successful. And if it wasn't, you'll be faced with the difficult decision: should you fire them or give them more time, hoping that they'll eventually improve?
If they don't, you've wasted a lot of time and money (the average monthly salary of a junior digital marketing specialist in the USA is around $49.5K per year, while for a senior digital marketing expert—$74.3K), and you still don't know what to do. In the worst-case scenario, the employee may have done more harm than good by ruining your rapport with the target audience, tarnishing your company's reputation, and messing up your CRM data, leading to failed communication, lack of productivity, and lost opportunities. All that while generating excessive costs.
Recruit an intern
If costs are a concern, and there's a good chance that you'll have to break in your new hires anyway, you may think about recruiting an intern instead. It's a more affordable option with 50/50 chances of succeeding. You may find a true gem of a future marketer, but this is rare. Otherwise, it will be a complete waste of time and some investment, albeit much lower than in the case of a full-time and fully-paid employee.
However, in most cases, going for an intern is even riskier than recruiting a more experienced candidate. Unless your hire turns out to be a rare talent (a lucky bet), they'll require a lot of babysitting before they can perform basic digital marketing tasks independently. That's not to mention that to learn, they have to make mistakes, and these mistakes may be harmful to your business.
Ultimately, the savings generated by getting an inexperienced intern to take over digital marketing duties are unlikely to be worth the risk. Unless you already have a tried and tested digital marketing team—external or internal—an intern can become a valuable addition. But it's unlikely they will carry the burden and responsibility of digital marketing tasks on their own back, confidently.
Liaise with a digital marketing agency
When both hiring options fail, it's time for the heavy hitter option: a prominent third-party digital marketing agency working with top-class clients and spending millions of dollars in budgets on their campaigns. These agencies specialize in digital and digital marketing only, so they strive to hire the best of the best, marketing's cream of the crop. As a result, you get top-quality marketing services that will help your business attract new leads and turn them into customers. Right?
The thing is that even when working with a digital marketing agency, success isn't warranted. That's because experience isn't everything—flexibility, responsiveness, and your involvement are just as important. Besides, big marketing agencies operate at scale and follow rigid internal procedures, leaving little space for a personalized approach. You'll need to renounce much of your independence to let them succeed. That is if you can afford their services in the first place.
Usually, teaming up with a big digital marketing agency means signing a retainer deal lasting at least 6-12 months. Due to large team sizes and established processes, the details of your partnership need to be strictly specified, and you'll be charged extra for requesting any additional services. Overall, it's a significant investment that gives you little flexibility and no return guarantee.
Work with a digital marketing team like 6Minded's
Last but not least, there are digital marketing services providers like us—an agile digital marketing agency hiring a vetted, compact team of content writers, marketers, graphic designers, UX experts, project managers, and software developers with the shared experience of hundreds of inbound marketing projects.
The small team size allows us to operate flexibly and craft digital marketing campaigns according to each client's individual needs. Being close to customers also means that agencies like ours can respond to queries faster and provide more personalized, comprehensive services.
Along the way, we help you better understand your audiences to lay out a customized digital marketing plan that you can continue to execute independently if you wish. Our goal is to grow as you grow, so we consider ourselves partners, not outsourcers, to our clients, developing together and learning from each other.
And if you're not happy with the outcome, we'll give you a full refund and the right to use all assets we've created. Take it as a token of our belief in the skills and quality we provide.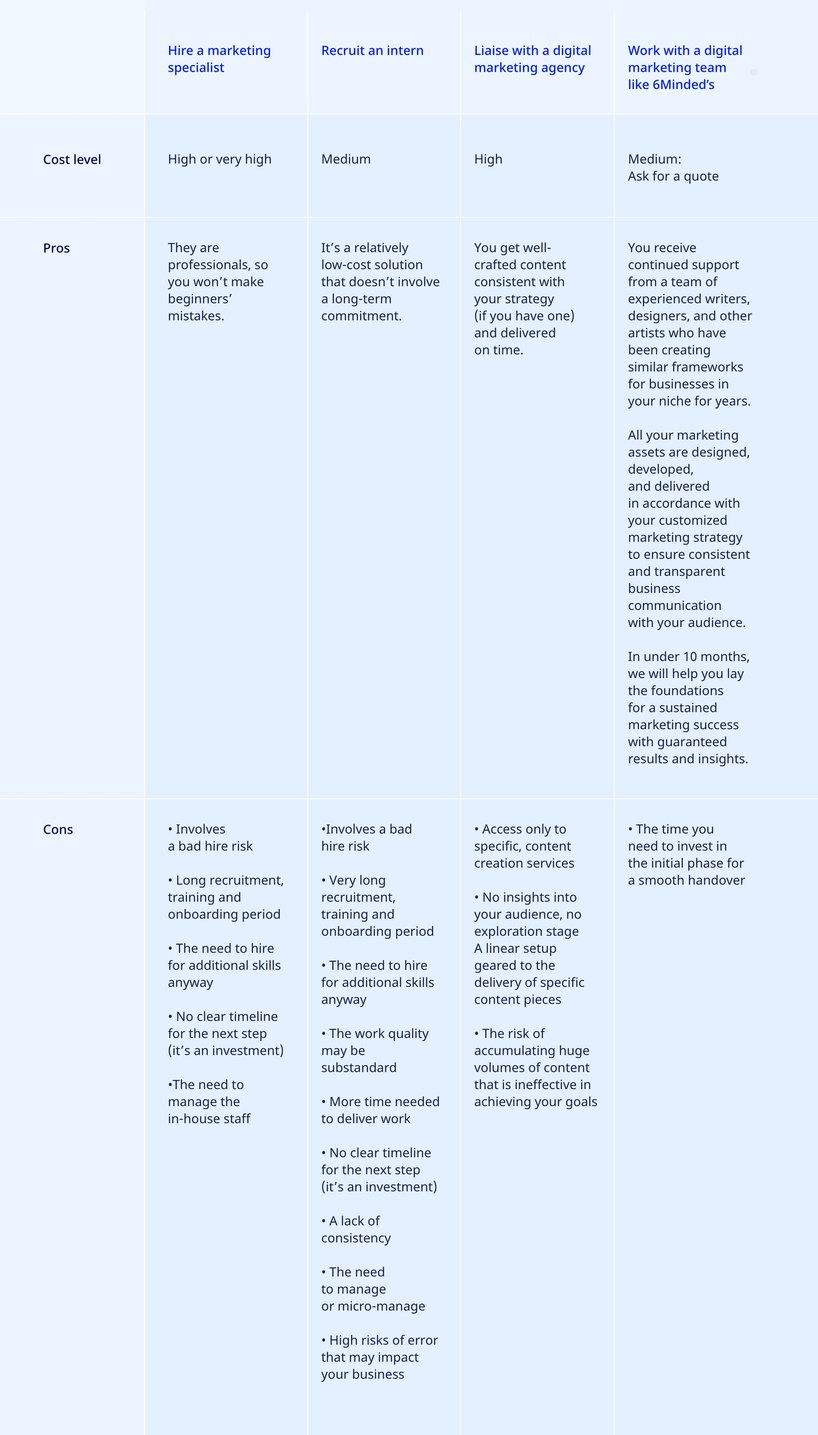 Our process, or three steps to your digital marketing success
Let's break our framework into three key stages so that you can understand how we can help your business thrive and delight your audience. Depending on your needs, we may implement all the elements or just some of them. Flexibility and personalization are our strongest assets, and each project is different, so we consider your specific requirements and goals.
Step 1: Strategy
We begin by developing a digital marketing strategy personalized for your business. It's a useful document that encompasses critical aspects of the interactions between your business and its customers. It covers buyer personas, buyer's journey, keywords, content creation plan, tone of voice, and much more.
If you need support with branding, we can build a visual guidebook that will help you maintain a consistent image across all communication channels and marketing assets.
The final part of this stage is planning the creation and delivery of content through a content creation plan. It lists all pieces of content we'll produce: their topics, descriptions, and delivery dates. This document helps us coordinate our work with customers and keep everyone on the same page regarding publishing frequency or the number of assets delivered. Though these details are set, we continue to update the content calendar to correspond to your audience's current needs.
Step 2: Setup
Once the planning is done, we will start implementing HubSpot Marketing Hub and other inbound marketing tools to promote your business. At this stage, we'll create all required web pages and email templates, migrate your content, set up reporting and dashboards, establish customer segmentation rules, administrative settings, and more.
In preparation for the campaign kickoff, we'll also set up your social media channels and paid ads platforms.
Step 3: Execution
Let's get started with the actual work! Tasks and content will vary depending on the type of campaign:
Sales Qualified Leads (SQLs) Generation — This campaign aims to guide prospects with already identified needs directly to your products and services.
Marketing Qualified Leads (MQLs) Generation — Here, we aim to attract leads to your content, show them how your business can solve their problems, and nurture them until they are willing to become customers.
Traffic Generation — Traffic generation campaigns are focused on raising brand awareness and increasing general engagement. To achieve that, we create content that's relevant, valuable, and consumable by your audience. An additional goal is to check whether the new audience holds the potential to turn into customers in the future.

Step 4: Your results!
A bonus round where you reap the benefits of our partnership:
The inflow of new leads and an organically growing customer base,

Increased web traffic,

Stronger brand recognition and market presence,

Fully configured, tested, and customized suite of inbound marketing tools,

Insights into your audience, marketing channels, optimal types of content, and more.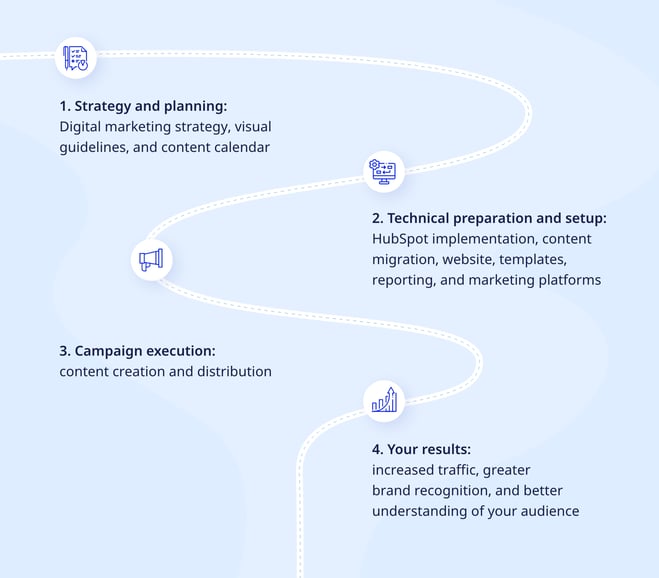 How does it work in real life?
That all sounds fantastic, but how does this framework fare in real-life scenarios? For example, look at the story of one of our long-standing clients: The Doctors Answer (or TDA for short).
TDA is a medical answering company that helps clinics and hospitals provide the best support to their patients. The company has 25 served providers across the US and handles more than 4 million calls each year.
TDA's services were a great solution to a very palpable problem, but despite that, the company struggled to build brand awareness and attract a broader audience. Thus, it turned to us for help because they didn't have enough time and resources to plan and execute a marketing campaign fully. So, what did we do?
First, we conducted a marketing audit to evaluate the effectiveness of TDA's marketing campaigns, tools, and assets. This helped us find what worked and what didn't work for TDA on the marketing front.

Based on that analysis, we developed an

inbound marketing strategy

tailored to TDA's target audience, market, and channels. We focused on highlighting the unique selling points of the company.

To make all marketing efforts more efficient, we've integrated and migrated all data to a single management system encompassing contacts, emails, pages, lists, workflows, and campaigns.

We also set up automated content distribution across the most optimal channels, optimized the existing marketing software, and improved TDA's current sales pipeline automation.

Then, we developed a content creation plan for the TDA blog and other platforms.

According to this plan, we started to create all kinds of content—blog articles, social media posts, videos, emails, and ads—to promote TDA's services.



And the results?
6Minded has generated 400% more leads than our previous SEO company. At the same time, our cost per lead has gone down, and our marketing return is up 38% from the same time last year. They write intelligent pieces that get engagement from potential customers.
Benjamin Pure, former President, The Doctors Answer
Start building a winning digital marketing strategy today
Increasing the reach of your business is no easy task, and the abundance of available options doesn't make it any easier. We hope this short overview has helped you understand these options and see that with 6Minded, you don't have to compromise.
If you're curious to hear more about our work, give us a call! We'll investigate your needs and see how we can drive the digital growth of your business.