Consafe Logistics transforms warehouse solutions, developing logistics management software streamlining supply chain operations. To boast its rapid expansion and better serve an international portfolio of clients, it turned to 6Minded to replace the previous content management platform with HubSpot CMS Hub and develop a brand-new, intuitive website. A custom theme paired with marketing automations provides a flexible, easy-to-manage solution at the backend, paired with a delightful, customer-centric website interface.

Europe's number one supply chain technology partner
Consafe Logistics is a Swedish software development company with 40+ years of experience in guiding customers to a modernized and sustainable supply chain future. Flexible warehouse management solutions automate warehouse operations, simplify shipment organization and speed up the delivery process, improving customers' profitability, efficiency, and overall experience. Trusted by brands and organizations within any industry, their AI-driven Astro WMS® earned the title of one of the world's leading WMS solutions.
The website is the key component of Consafe Logistics' sales and marketing strategy, as it builds brand awareness, educates the customers, and attracts new leads to close more deals. With the edge-cutting technology in their hands, our client needed a professional look to stand apart from the competition online.
Falling behind the company's growth dynamics
While the company was experiencing constant growth, its website needed to be updated. It required a clearer purpose and structure to enhance customer experience, lead generation, and conversion rates. "A sales-ready site should focus on generating business and increasing additional sales and our brand value," says Louise Lindell, who coordinated the project from the client's side. Unfortunately, the existing website failed to attain these goals. It lacked proper call-to-actions and conversion points, prompting users to take action.
As a top logistics industry supplier with revolutionary technology, Consafe Logistics needed to transform its old-fashioned look to meet today's high customer standards and attract more leads. This, however, was impossible to achieve with the previous CMS, which offered limited theme design and customization options. It depended on third-party plugins to provide basic features like mobile responsiveness or SEO optimization. The overly complicated user interface prevented local professionals from adding new language versions. Lacking a comprehensive view of the company's data, the built-in analytics tools didn't reflect the actual marketing and sales performance.
After hearing our clients' recommendations, Consafe Logistics turned to us to make the impossible possible, bringing to life a website that would reflect its fast-paced growth.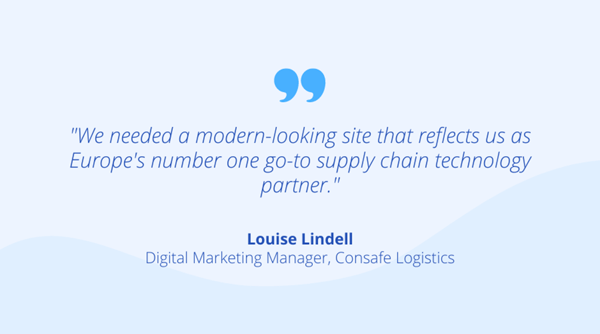 Getting an on-brand, custom website in HubSpot CMS
Together, we decided that HubSpot website migration would be the best way to create a smart, highly responsive, and advanced site that's still simple enough to manage by tech-savvy and non-technical users. Since Consafe Logistics already used HubSpot's Marketing Hub, HubSpot CMS Hub was a natural choice for development and content migration, ensuring a smooth platform transition.
Cooperating closely with Consafe Logistics' Digital Marketing Manager Louise Lindell, our designers delivered a slick, professional-looking website showcasing the brand's refreshed visual identity. The client provided necessary design items like logos, icons, and colors, as well as the sitemap and written content, giving us more time to work on the visual and usability aspects of the site.
In the implementation stage, our developers had a chance to demonstrate the benefits of HubSpot CMS Hub by adding custom components like an interactive map, intuitive, UX-friendly questionnaires based on HubSpot forms, and Teamtailor API integration for an immediate and automated job application process. We discussed planned decisions and changes with Consafe Logistics' in-house IT team to ensure both sides were on the same page.
Following our structured design and development process, we delivered each project's step on time and aligned with the visual branding. A cohesive color scheme throughout the website unified the look, presenting visitors with a solid and consistent brand identity. The result answered all client's needs and challenges—a modern website with attention-drawing full-page headers, scalable grids, and extra white space to break text-heavy pages.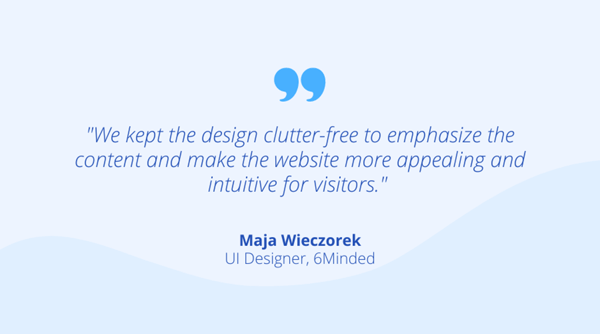 Web presence aligned with ambitious business goals
To cater to the company's international audience, the custom HubSpot CMS Hub theme currently supports seven languages through the multi-language tool. Space-efficient features like clear event agenda, categorized resources filtering, and pagination ensure website clarity. Refurbished architecture elements such as categorized resources filtering and pagination gave the website a proper structure, making it easy to navigate.
HubSpot CMS Hub offers various types of fields, adding flexibility and customization options to the website's layout. Our client can use designed modules to experiment with multiple combinations, add and modify new blocks, and manage the overall structure without the developers' help. We've optimized the website for mobile devices to automatically fit all screen sizes, increasing Session to Contact Conversion by 13% on mobile and Contact to Customer Conversion by 20% on mobile in the first six months.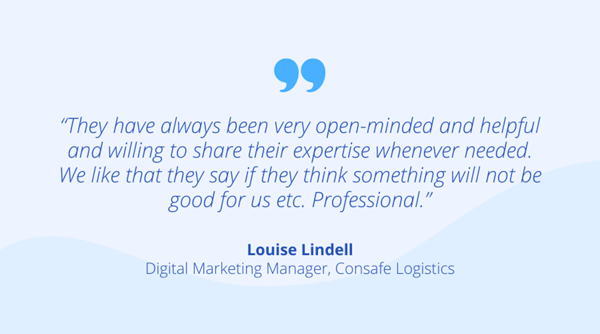 Upgraded website, 36% growth in conversions
The new website took Consafe Logistics' online presence to another level positioning the company as the true industry-leading warehouse management partner. After six months of using it, the company has noted an increase in customers converted via the website by 36% for all sources and customers converted via the website by 31% for direct and organic sources.
Thanks to the successful HubSpot website migration, Consafe Logistics now exudes a professional image online that reflects its core strengths: innovation, efficiency, growth, and customer-centricity.
Read our Consafe Logistics case study to get a visual overview of the design and development features.