Buffer, HubSpot, Shopify, InVision, Canva, Salesforce... We could go all day name-dropping multi-billion SaaS brands that made their name using amazing content. Instead, let's look at some stats from the 2021 B2B Content Marketing report:
Content is an essential element of a B2B marketing strategy
60% of top-performing B2B brands have a documented content marketing strategy,
80% have an editorial calendar where they plan content publishing,
and a whopping 94% of them use metrics to track content performance.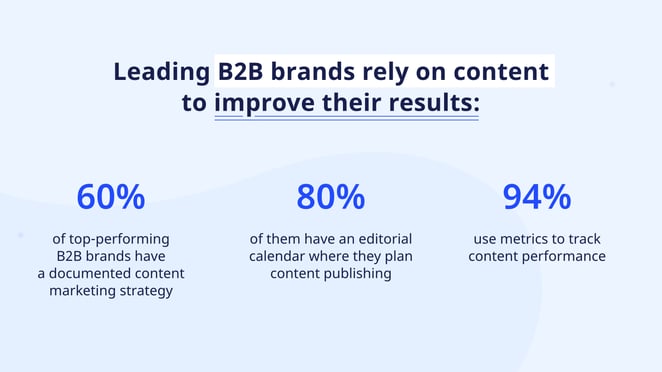 These numbers prove that content marketing has become an essential part of the business revenue generation strategy in B2B companies. But why exactly? We will develop on that, showing you how the right content can help B2B SaaS brands attract and convert more leads for their software.
Content and B2B SaaS marketing go hand in hand
Buyers consume 13 pieces of content on average before deciding whether to purchase/subscribe to a B2B product or forget about it. Now, let that sink in. If you don't have any content to show—or any useful content that solves the reader's challenges—potential buyers won't even get close to considering your SaaS solution, let alone buying it.
On the other hand, purposeful, well-written content can help your SaaS business in four main ways:
Brand awareness: It makes the world aware of your brand/product.
Customer education: It helps customers understand what you do and how to use your product.
Lead generation: It helps you attract potential buyers.
Brand reputation: It is essential for establishing credibility and building trust.
SaaS-related content achieves these objectives by tackling several common barriers. Let's spell them out.
Making buyers aware of the problem...
To beat the competition, SaaS products often need to be as innovative and unique as it gets. This means they might need to address a new issue that many customers aren't yet aware of.
To illustrate that issue, we'll need to do some time traveling. Around a decade ago, we could see marketing people starting their day by posting company social media updates to every channel that existed at the time, one by one. Customizing each post, logging into every account separately, and adding the relevant update could have easily taken a few hours. And, oh boy, was it tedious!
Then, Buffer appeared, making it possible to schedule posts to various social media ahead from a single place. That functionality was a real breakthrough and found its way into many tools, both old and new. We've covered the most important of these tools in our social media scheduling guide and have another one about doing that in HubSpot specifically—make sure to check them out!
... and the solution
Back to our Buffer story, their solution was a huge time saver, but the company faced one problem: how could a marketer know he or she needed the scheduling platform if nothing as it had existed before? To make its target audience aware of the issue and promote its software as a relevant solution, Buffer turned to content generation.
Buffer's case can teach all B2B SaaS brands an important lesson: for many of them, the main barrier to creating relevant content isn't talking about a solution customers already know. Their biggest pain is how to reach those companies who aren't aware of the problem or don't know there's a product out there that can help them resolve this problem.
That's exactly the challenge faced by one of our clients (we can't share the full name, so let's just call them PP). To raise awareness of its product among short-term rental businesses, the company launched a series of webinars on dynamic pricing strategies. It also publishes a blog to educate customers about the solution and its features, introducing them to the available options for managing rental revenue. These content marketing activities slowly but surely make PP's audience more accustomed to the service and, essentially, show that there's value in it for them. Once they're ready to pay for that value, they'll know where to find it.
➡️ We've supported PP in their efforts, helping them plan out and distribute content by integrating a CRM platform that not only delivers content to the right audiences but also helps measure the results of that distribution and improves every content cycle. We can assist your SaaS brand with that, too!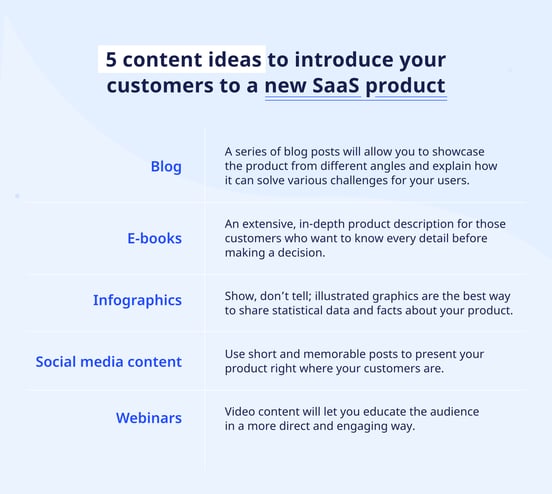 Debunking common misconceptions about B2B
Every industry is surrounded by misconceptions that often prevent potential customers from purchasing. Content marketing is a great way for B2B SaaS companies to dispel these myths and any client fears.
Let us use our customer example again. The Doctors Answer, a US medical call answering company, struggled to reach small and medium-sized healthcare providers. Many of them incorrectly assumed that phone answering services were only affordable for hospitals and clinics, not SMEs. They also feared that an external team wouldn't be able to handle patient calls in a professional and considerate manner.
To overcome these customer qualms, The Doctors Answer had to educate its target group and convince decision-makers within healthcare organizations that their fears were unfounded. The company has achieved this with a content-based inbound marketing strategy.
➡️ Sounds interesting? Read our case study to learn how we helped The Doctors Answer increase its brand awareness. Or contact us directly if you are struggling with a similar challenge.
"6Minded has generated 400% more leads than our previous SEO company. At the same time, our cost per lead has gone down, and our marketing return is up 38% from the same time last year. They write intelligent pieces that get engagement from potential customers."
Benjamin Pure, President at TDA
A niche service is hard to find
Imagine a financial company looking to ensure compliance with position limit regulations. The compliance managers want to automate and streamline the process and are looking for software that monitors derivative positions. Of course, they start their search on the internet. Your SaaS offers the features the managers need, but will it show up high enough in search results so they can easily find it?
It will if you have created enough quality content on the topic for Google or Bing crawlers to place it on page one. Another of our clients, FundApps, achieves that goal through quality content about position limits, derivative traders, short selling, and shareholding. Applying the right content tactics puts its services in front of the right audience. It also establishes authority in the field with online seminars and other learning resources that nurture existing customers and attract potential ones.
➡️ Would you like to know more about how they accomplish that? We're here to tell the story!