As someone who doesn't use microwaves too often, I have a limited grasp of their functions. You know, I am that user who hits the start button several times to heat my meal properly.
So, imagine how astonished (and grateful) I was when my colleague showed me the temperature increase button – the only one that wasn't labeled! What I've learned from this experience is that less time in the kitchen means more time to enjoy your break!
Ok, I'm sure you don't need guidelines for using your microwave. You're probably here because you've recently decided to implement HubSpot Sales Hub in your B2B company, and your team may still feel a bit lost in the new settings. Or maybe they could use some hacks to level up their success with smart B2B sales tools.
Let me give it to them and open a new world of HubSpot Sales Hub opportunities before their eyes, just like my buddy did when she showed me the trick to get my food warm fast.
Use these sales tools to automate customer communication
Building genuine and meaningful relationships with your clients is a surefire way to close successful deals. Your customers want to feel special and appreciated when communicating with your startup sales team. So much so that 70% of B2B customers value personalized content and tailor-made services.
But how to achieve that when giving undivided attention to each client is nearly impossible? A few life-saving HubSpot Sales hub features come to the rescue to automate mundane tasks and allow your sales reps to focus on buyers' needs.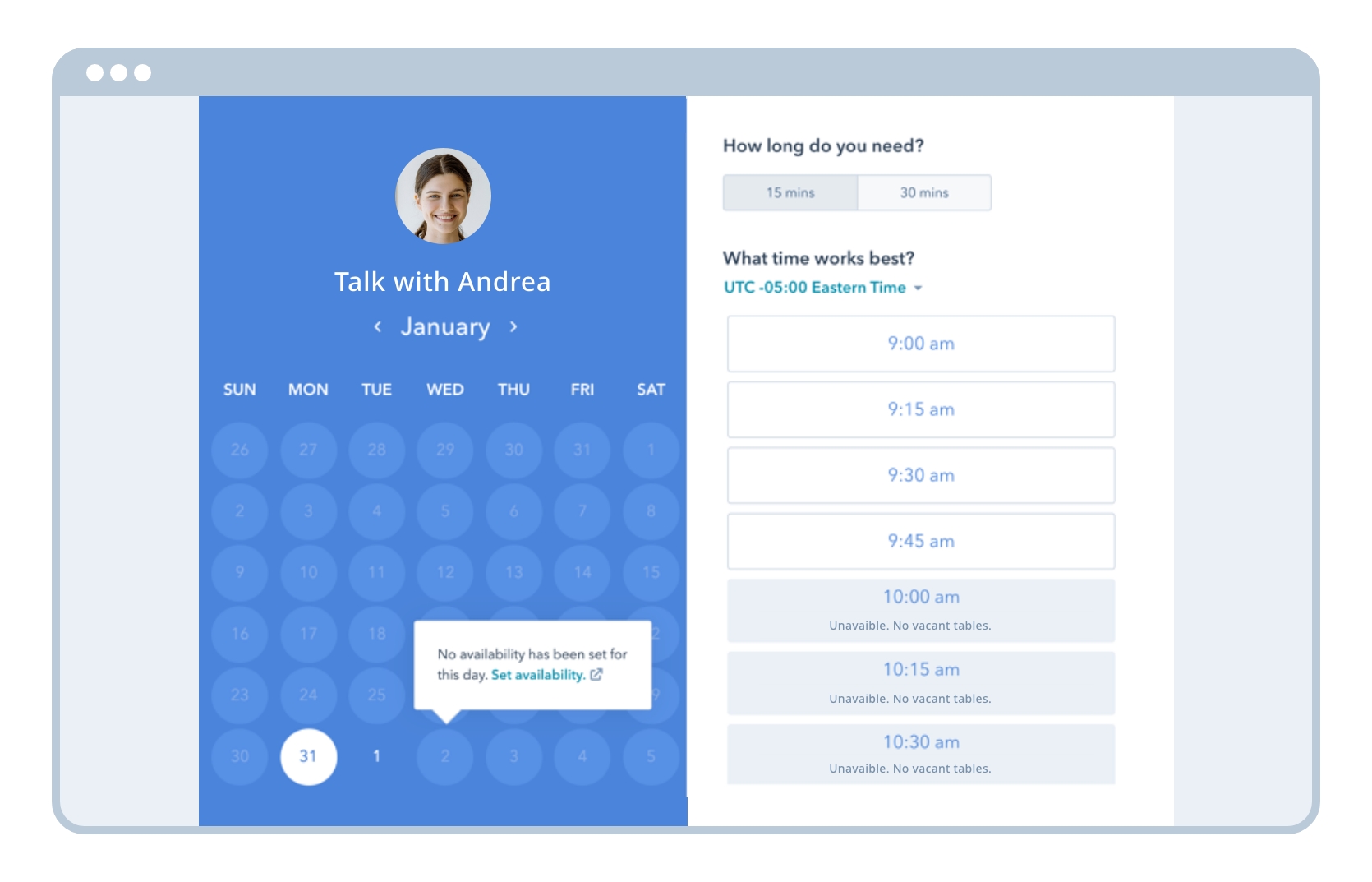 1. Sequences
This powerful set of B2B sales tools automates communication with prospects. Sending targeted, sequential emails, adjusting the exact timing, and adding tasks for your contacts (like setting up an appointment or making a call) will help your sales team keep track of each potential client's status.
What's best, automation does not exclude personalization. With Sequences, you can make customized email templates tailored to the prospect's individual needs. Once the contact enrolls in the sequence, replying to a message or completing the desired action, it will be automatically unenrolled to avoid sending unnecessary emails.
2. Meeting Scheduler
Arranging a meeting with a client can be a drag, especially if you're sending emails and still can't settle on a date. HubSpot Meeting Scheduler comes in to save your (sales teams') day! Your sales reps can use it to send an appointment booking link to their prospects and let them choose the most suitable day and time. Not only is this convenient, but it also reduces email overload.
3. Calling Tool
Integrating phone calls with HubSpot removes the hassle of manually organizing contacts on the phone or in third-party applications. That is because the Calling Tool provides sales reps with information about the client's activity, the number of calls, and the date of the last call.
There's even an option to record and transcribe conversations, go back to them at any time, and gather more insights for future interactions. Connected with an email tracking option, the Calling Tool makes it easier to connect with your prospects just as they read about your startup's offer. The right timing is everything in sales!
Create engaging content that sells
Before your sales reps jump into first client calls and emails, preparing them for every situation is a good idea. I don't necessarily mean reading everything from the script, but having just the right card up your sleeve can be a real game-changer.
Fortunately, a wide range of HubSpot features enables the quick creation of high-quality materials for sales reps and clients to speed up the buying process.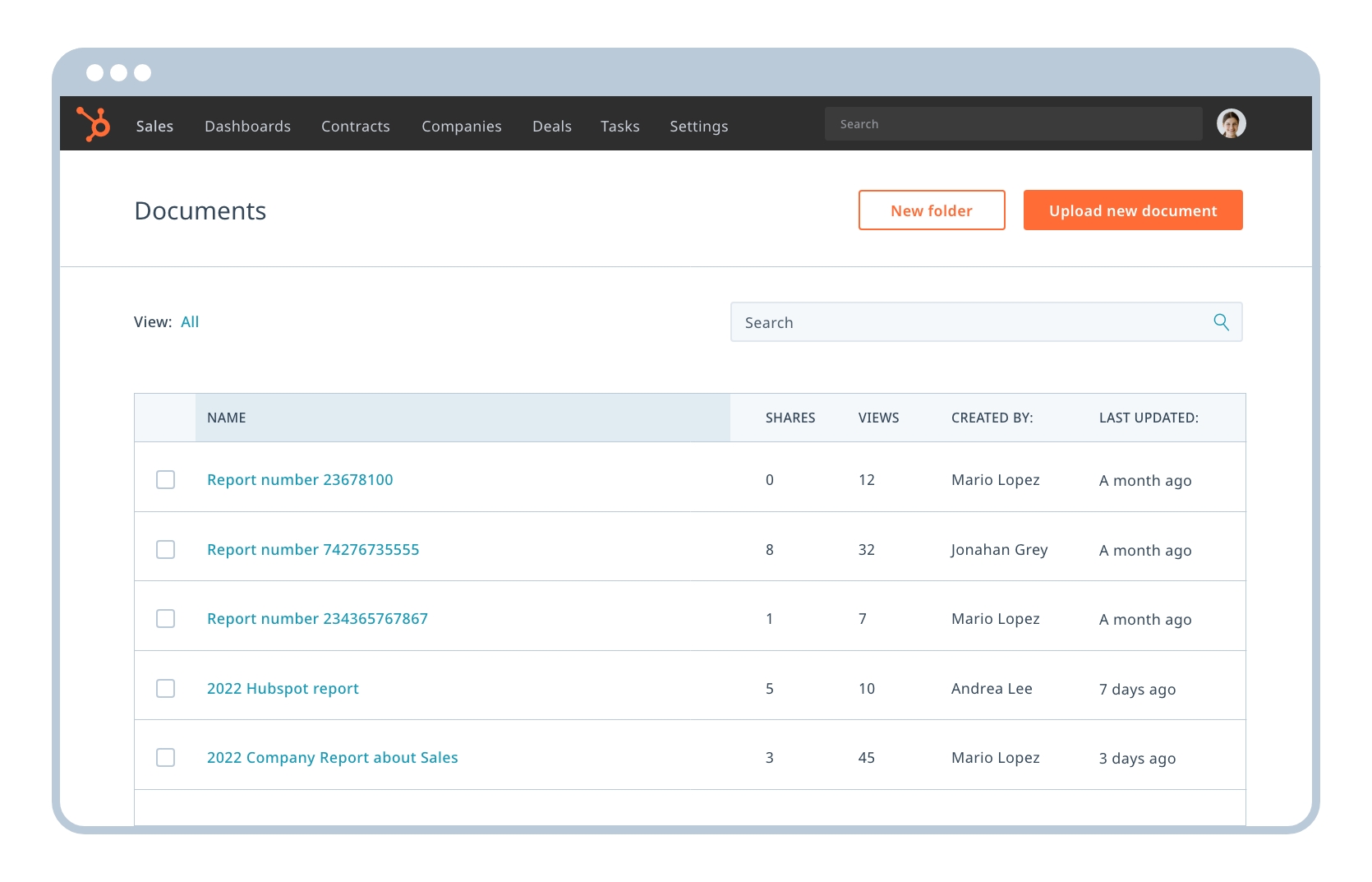 4. Battle Cards
Knowing the competitors is the key to winning clients. With Battle Cards, your sales team can visually compare your startup and competition to use as a cheat sheet. And visual cues like that are invaluable when prospects want to quickly check on the prices, services, features, etc. With all the information at their fingertips, your sales reps will be more confident in their knowledge and ready to share it with potential clients instantly.
5. Video Tool
Remember when I mentioned the importance of personalized communication? HubSpot Video takes it to the next level! Your teams can use it to record custom videos for your prospects and answer any questions more engagingly than usual.
Instead of skimming through another dragged-out email describing your offer or laying out new product features, potential clients will see a smiling face detailing everything to them in a friendly voice. And because sending videos over email can get tricky, HubSpot generates a link to your recordings that you can easily share anywhere.
6. Documents
Sales professionals apply this HubSpot Sales Hub tool to create content for the entire team, uploading materials to a shared library. Doing so simplifies collaboration and communication and saves everyone time, as they can use existing (and performing) content.
What's more, after sending documents to prospects, your sales reps get a notification on open. Additionally, document tracking allows them to learn what kind of content is the most engaging and effective.
Take the lead with these B2B sales tools
Sales lead generation is a crucial aspect of the journey from visitor to customer. It's also when cooperation between your sales and marketing departments bears fruit. Together, they can ensure the quantity and quality of provided leads, using specific HubSpot sales tools for tracking, prioritizing, and nurturing potential clients.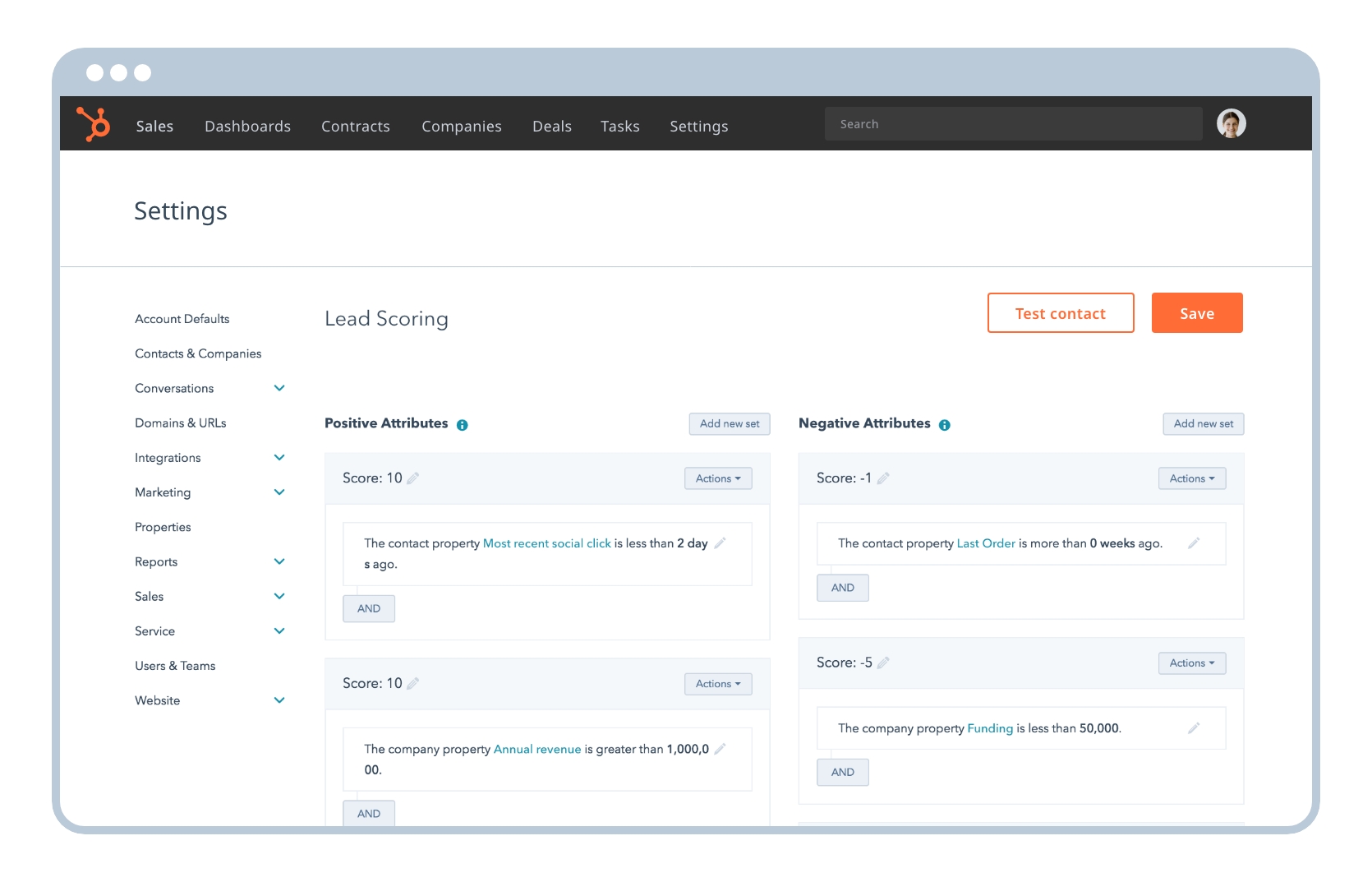 7. Lead Scoring
Let's get this straight – not all of your leads are equally important. On average, up to 10% of them convert into customers, so it's crucial to establish priorities fast. Lead Scoring allows your startup sales team to take action without guessing, speeding up the sales process.
Before the algorithm magic starts working, it needs a calculated lead-to-customer rate and specific criteria that make a lead more likely to become a customer (demographic, engagement, business size, online behavior). Once these attributes are set, your sales reps can compare the results and engage with the most profitable lead.
8. Lead Status
In HubSpot, leads are shown within the Lifecycle Stages. When they reach the Sales Qualified Lead (SQL), your sales team can start using the Lead Status tool to plan a custom strategy for each lead. Aligning your marketing, sales, and services actions within the Lead Status gives you a clear view of your prospects' needs, problems, engagement, and opportunities. As a result, it makes it easier to organize contacts and never miss out on potential clients.
9. Website Activity Tracking
This HubSpot functionality tracks the lead's activity on your website. How is that related to the sales process? Imagine that before the consultation call, your sales representatives already know the prospect's interests. Let's say a potential customer visited the page describing one of your products and then requested a consultation. This could give your salesperson more insight while preparing for the first one-on-one.
10. Prospects
Over 40% of salespeople struggle with prospecting. If that hits close to home, don't worry. The Prospects tool is here to help you get away from that group. It gives you information about users visiting your page. Based on that insight, your sales team can determine if a company is worth pursuing and find similar prospects when the lead is suitable.
…and stop wasting your work time on admin tasks
Behind every spectacular show stands a group of people doing the silent work so that the final product turns out perfect. A salesperson's job is not all about talking to customers. It usually also involves an abundance of technical work that feels dull and repetitive but needs to be done. Fortunately, there is a way to use HubSpot sales tools to automate menial tasks, earning your team precious time for more complex undertakings.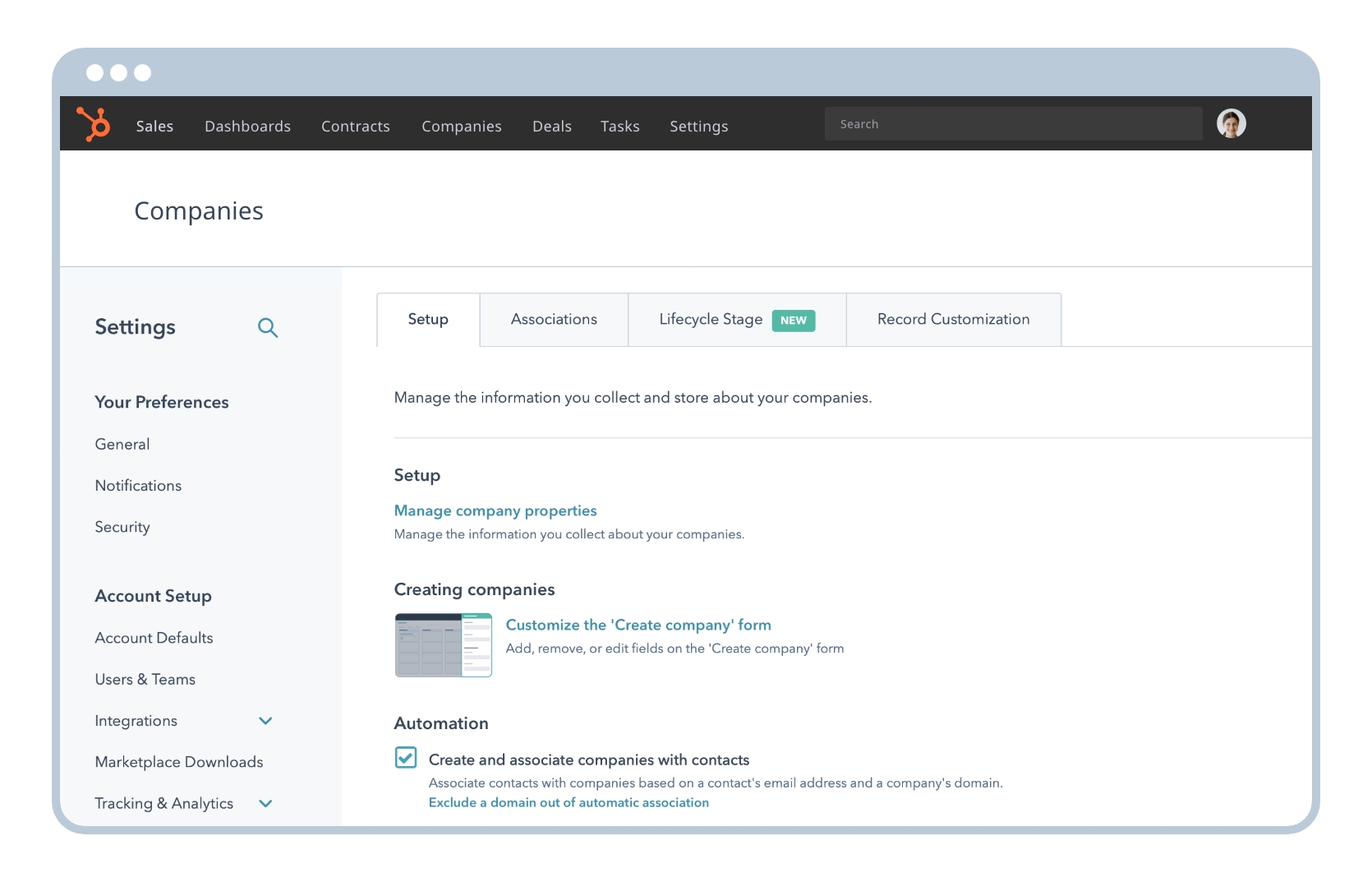 11. Manage Duplicates
Creating a duplicate contact in CRM is easy. One misspelled word, a typo, and you got yourself a new one. Suddenly chaos emerges, which your sales team dreads and wants to avoid at all costs. Fortunately, the Manage Duplicates tool allows you to set criteria for merging your contacts. It reviews possible matches every few weeks to keep your sales reps squeaky clean.
12. Contact and Company Association
Another tool that reduces the amount of technical work is Association. Contacts that do not match any company often get overlooked in the sales process. To avoid that, your CRM can automatically pair email addresses with the company's domain and track the relationships between these two objects. Your sales reps won't have to spend hours doing that manually ever again.
13. Payments Management
Even though closing the deal and receiving payment is the end goal of every sales process, your sales team doesn't want to be bothered with it more than necessary. The Payments tool guarantees a safe, easy, and frictionless paying process within HubSpot that will satisfy your clients. Because this feature is internal, you won't have to worry about using any additional applications.
Little-known HubSpot B2B sales tools. What's your favorite?
I hope this short HubSpot Sales Hub manual inspired you to consult a few changes with your sales team. Of course, the list could go on, but I don't want to spoil all the fun for you. Uncovering secrets on your own can be a much more enjoyable learning experience.
Did any of the listed features happen to be as surprising for you as the miracle microwave button was for me? Share your favorites and get in touch with us if you want to learn more about them!