Fancy baking a cake together? Bear with me, we'll be making some delicious sales boosters today!
So, you've got your recipe, the ingredients are laid out on the kitchen counter neatly, and all kitchen utensils are ready. Everything goes according to plan; the dough looks fabulous; it goes into the oven.
Then an hour or so later you take it out, and something's not right. The cake has collapsed, and its texture is dense and rubbery. What happened? Apparently, you forgot to add baking soda – a tiny but essential ingredient. All your effort, time, and cost will go to waste, and you are left empty-handed, with a bitter taste in your mouth.
Why scaling your B2B SaaS sales is like baking a cake
Consider this scenario of building a scalable B2B SaaS sales strategy. You've done your market research, you've built a competitive product, and you have a great sales team that excels at generating leads. Sadly, despite all these top-notch ingredients, closing deals resemble that miserable, slack-baked cake. What are you missing to triumph with your cake, ehm, sales?
Answering that question was one of the primary goals of a webinar HubSpot invited us to co-host with them. During the online event, our B2B sales operations experts, Mateusz Jachna and Stanisław Bartczak, revealed their well-tried methods for achieving long-term sales success. Let's wrap up the key points they shared.
1. Efficient lead generation
Here's the first key ingredient of successfully scaling sales, lead generation. It is a process of converting prospects into leads by getting them to share their contact information. There are two main digital lead generation strategies:
Inbound, which focuses on attracting customers to your business by putting out targeted content, and
Outbound, which requires engaging directly with prospects who might not be aware of your offer via calls, emails, or social selling.
Today's B2B customers like to be well-informed about the products and services they search for. 93% of them begin their buying process with online research. This is why in 6Minded, we emphasize the efficiency of inbound lead generation in a scalable B2B sales strategy. It builds trust and long-term relationships with clients based on informative content that increases brand awareness. As a result, inbound strategy converts to higher quality leads – according to 59% of marketers.
All you need to start drawing those leads is a captivating lead magnet, i.e., a piece of useful content that will attract the attention of your future clients. Here are some examples:
Educational webinars
Live webinars are a great way to promote your product while interacting with potential customers. Choose a hot topic from your area of expertise and create free online training for your audience. Remember to discuss problems and address questions that genuinely concern the attendees. To do that, you can run a survey prior to the event, asking about their preferred topic areas or prompting them to ask questions as you go live.
Our webinar co-hosted with HubSpot showed the first steps to building a successful B2B sales strategy since that is one of the primary interests of our clients.
Professional blog posts
Prospective clients seek information about your services before making the purchase decision, so provide them with it! Writing articles that explain problems and answer questions move forward. Focus on high-quality writing and SEO optimization to get the most out of your blog page.
Informative newsletters
A well-constructed newsletter can truly appeal to your prospects. Once they find something interesting on your website (maybe that one article you have posted on your blog?), they might consider signing up for your mailing list. Use it as an opportunity to foster their engagement with your brand! Email newsletters are deemed the best content type to nurture leads, so why not try them? Are you afraid this is too much to handle for your team? Our content specialists can help, so get in touch with us!
Insightful quizzes
When tailored to your business niche, quizzes can be the type of interactive content that engages your clients and keeps the conversation going. You can excite your prospects to learn more about themselves and your services through fun questions, capturing basic contact information like name, email address, phone number, company name, and job title.
This simple quiz, created by Pluralsight, answers the question, "Does your business need blockchain?".
Live chats
Do not underestimate the power of a live chat. It lets your support team interact directly with your prospects and customers, acquire their contact details, guide them through the website, and answer any questions regarding your offer. Live chats are also a money-saving option as they are cheaper than phone calls ($5 per contact per chat session vs. $6 to $12 per call).
2. Robust sales team
Even the most elaborate sales strategy will fail without the right people to turn it into action, just like the finest recipe means nothing in the hands of an unskilled chef. And the other way around, a robust sales team can perform at full capacity under ever-changing conditions.
Your sales representatives are your business's face and voice, the first people to interact with leads, and the ones to nurture customer relationships. Every salesperson has a unique approach to their role, but there are a few characteristics the top-selling salespeople share. Pay attention if your people demonstrate these traits and provide them with training if otherwise:
Knowing the product – Before their first sales call, high-performing reps learn the product by heart to prepare for every question possible. They understand its value and how it will benefit the prospects (this is especially crucial!).
Understanding the persona – Defining the ideal prospect is the first step to building long-term customer relationships. The best salespeople are empathic and attentive to buyers' needs. By actively listening, they can create personalized solutions to new problems.
Following the process – Effective reps closely follow each prospect in the sales pipeline. They don't leave anything to chance, constantly reviewing the data, analyzing reports, and acting exactly when necessary.
Focusing on the results – generating leads and closing the deals is the end goal of every salesperson. The most committed won't give up too quickly before their team meets the target.
Being part of the team – Top-shelf individual skills are essential, but only teamwork will get you to the finishing line. Behind every success stands a group of talented people who know when to ask for help and don't hesitate to support colleagues.
Using time-saving tools – If something can be done faster, easier, and more efficiently, good salespeople know the trick. They are unafraid to experiment and always find smart ways to save time.
3. Clearly defined process
While building a scalable B2B SaaS sales strategy, don't forget to add a sales pipeline into the mix. It's an organized, visual structure representing the progress of potential buyers on different sales funnel stages. Thanks to it, your reps can track leads easily as they move down the pipeline, see where they are stalling, and determine which actions contribute to closing sales.
A well-implemented sales pipeline is repeatable and can serve your team as a template for every generated lead, making the process swift, intuitive, and scalable. If you want to know more about streamlining your sales, see our article about using a CRM system for creating efficient pipelines.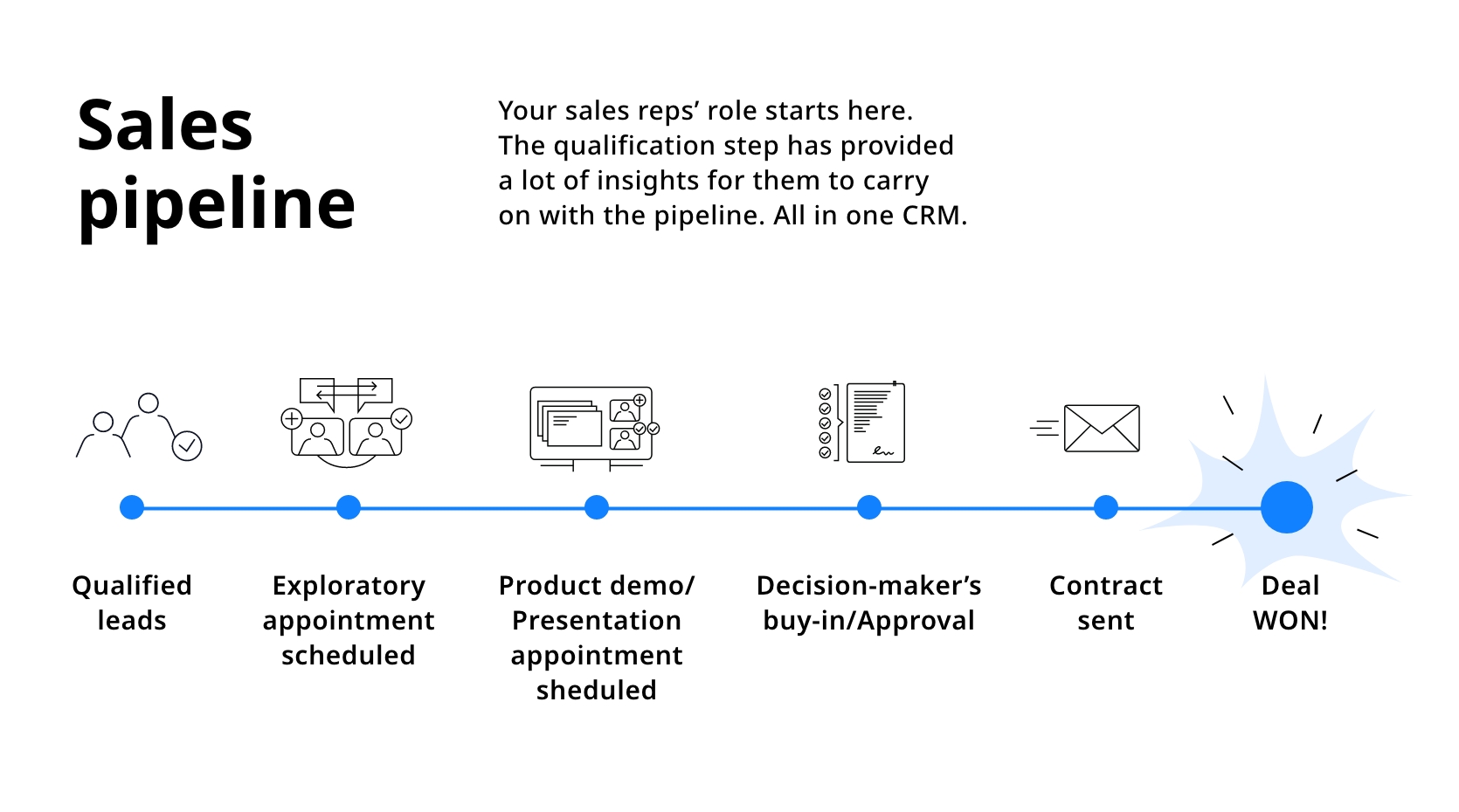 Each step in a sales pipeline brings you closer to sealing a deal and makes the process scalable and repeatable.
4. Tried and tested tools & quality data
Once you gather all the necessary ingredients, you need a solid space to work that sales dough. For kneading, you use a breadboard, for boosting your sales, you need a structured system with integrated work tools.
Bringing all useful apps and automations together eliminates the hassle of navigating between multiple apps. Moreover, an integrated dashboard helps ensure transparency and keeps everyone on your team updated.
When our clients ask about a compact, all-embracing toolbox for streamlining sales workflows, we always recommend using HubSpot for sales. It is intuitive, easy to use, and implement across sales, marketing, and customer support teams. It offers countless customization options, encrypted data storage, and various tools to manage client relationships.
HubSpot is also known for providing a wide range of smart tools and integrations, allowing sales teams to view, update, and share data across multiple applications. Using it, you can seamlessly integrate email tracking for better lead generation, documentation systems such as Panda Doc, or chatbots like Intercom to boost customer service. If you're unsure how to introduce your team to integrations, look at this HubSpot guide to getting started (or turn to us!).
Deal revenue forecast shown by stages in the forecast tool.
Deal stage funnel with deal totals and conversion rates in the funnel conversion report.
Scheduling appointments using the Meetings Tool.
Every deal on your list gives you the option to set a date for a meeting.
Scalable B2B sales strategy. Ready to cook yours?
Scaling sales can be a piece of cake when you remember all ingredients. But if you need a hand mastering your own recipe for success, we're always here for you. Just leave us a message, and we'll call you back!