Social media platforms fail every year. Do you miss updates on Google+? Are you still dropping videos on Vine? While some of these platforms didn't stand the test of time, others—like TikTok are burgeoning, and no one anticipates their sudden demise.
Looking at the long-runners, Facebook remains the market leader (with 2.9 billion monthly active users), and Instagram comes close behind (with 2 billion monthly active users). LinkedIn dominates the business social network (with 303 million monthly active users), and Twitter still maintains its popularity (with 436 million monthly active users, although the recent company takeover by Elon Musk has severely affected the follower numbers).
For B2B companies, these numbers mean one thing. More users equal a greater outreach, which can translate to more potential customers. Since people use social media to make purchase decisions, growing your online presence won't go unnoticed. And social media automation is a great tool to support you in reaching that goal through easier scheduling.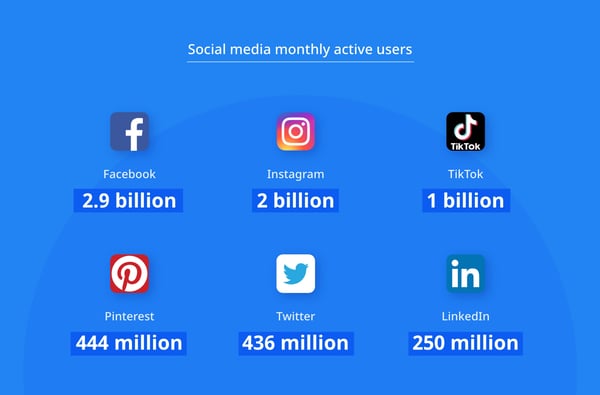 What is social media scheduling software?
Social media scheduling software is designed to automate social media posts and simplify manual operations across various platforms from the convenience of a single tool. You can use it to schedule the publishing of your content (posts, reels, stories, tweets, ads) at a specific time and date, also covering different time zones. Posts can also be added, edited, and updated whenever necessary.
Benefits of social media automation
Although quantity does not automatically imply quality, generally, the more frequent and consistent social media presence, the greater exposure to potential customers. Subsequently, the more content you want to publish, the more time and energy you need to create and distribute it.
At first, adding two-three updates a week may feel like nothing. But your workflow can quickly get messy as you want to engage with your audience, replying and commenting on their interactions. Especially as new social media networks enter the scene now and then.
That's where social media automation and planning tools come in handy, offering shortcuts to your dream, chaos-free schedule. Here's how scheduling social media posts can benefit you and increase the effectiveness of your social campaigns:
Manage all social accounts in one place: You can manage your Instagram, Facebook, LinkedIn, and other accounts from one dashboard without wasting time switching between multiple apps and tabs. All published and planned content would be right before you, making scheduling more efficient.
Prepare and schedule publications: Plan your social media posts according to your strategy. Should any emergencies happen, you'll be ready to change your content last minute or switch one post for another if necessary. You won't have to stress about falling behind a schedule ever again!
Post outside of business hours: Different research suggests that people spend 50-75% of their waking hours glued to smartphones and computer screens! One thing you can do to bring that time down would be to take advantage of social media automation tools. They allow you to share content even when you're not working and optimize posting times for different time zones. Thus, you no longer have to linger at your desk after hours to serve an international audience.
Easily monitor your posts' performance: Social media planning software provides monitoring features to gather data on audience engagement, post link clicks, the number of likes and shares, and gained followers and subscribers, among other metrics. This data helps you determine which content gains more traction among your audience and tweak marketing campaigns accordingly.
Publish regularly to connect with your customers: Being consistent allows your audience to develop trust for your business. Post one type of content regularly on the same day and give potential customers a reason to keep returning for more (until they are finally ready to buy).
Make bulk updates to your posts: Does your content need refreshment? Social media automation tools allow you to make changes and update all your posts, ads, and story layouts simultaneously. This takes less time and effort than going through each asset individually. On top of that, you are also less likely to omit posts that need updating.
Coordinate content and scheduling with the team: One platform for the entire team can save time on unnecessary communication issues. By scheduling your content, you can work with your colleagues on various social media while preserving a consistent brand messaging and image.
Social media automation tools—which one to use?
You can choose from many social media automation tools to create a comprehensive social media schedule aligned with your marketing strategy. The choice depends on your networks, preferred ways of interacting with your audience, and the content you promote. Here are five great examples of social media automation tools to get you started:
1. HubSpot
HubSpot makes social media planning a piece of cake—especially if you already work with HubSpot products. Using just one platform, you can schedule content for a targeted audience and personalize it based on the stored contact information.
Not only can you analyze the statistics to adjust future publications better, but you also monitor real-life interactions and conversations on your social media networks. Using data from your CRM and other HubSpot marketing tools, you can plan and manage the entire strategy from start to finish from a clear, easy-to-navigate dashboard.
We leverage these features when creating our own posting schedules. We'll go through each step of this process in our next article, so stick around for more tips there (check out our Facebook and LinkedIn for updates;).
2. Sprout Social
Sprout Social is an excellent tool for analyzing the personas and understanding the needs of your audience, as it offers various social listening features. You can post your content exactly when your audience is active, increasing the chance of reaching them at the right moment.
Gathered social data helps create and schedule personalized content that engages followers and brings potential customers. Sprout Social also boasts extensive visual reports, which need no editing before sending them to your clients. However, being such an extensive and intricate tool also has its downsides. It is useful for big agencies and enterprises but might be overkill for small and medium companies with only a few social accounts.
3. SocialPilot
Does your team have multiple clients to work with? SocialPilot offers a unique client management feature you can use to streamline social media account management for you and make your content more engaging for customers.
The industry-specific content suggestions feature helps you develop new post ideas relevant to your audience. This social media automation tool is also one of the most affordable options; because of that, small teams love it. Worth considering if your marketing team comprises under three users.
4. Buffer
With Buffer, you can create different schedules for all your business accounts. The tool is easy to navigate, allows Chrome and WordPress integrations, and comes with a free plan after a trial for three social media platforms.
It's an excellent choice for small and starting businesses that want to set up their Facebook, Instagram, and LinkedIn accounts. Buffer also lets you create simple landing pages to increase your content's traffic. However, it might be insufficient as your business grows, especially if you want to couple managing your social media marketing with other CRM and CMS options.
5. Hootsuite
Hootsuite is popular among sizable B2B businesses. Although pricy, the key features (such as connecting with 20+ social networks, unlimited scheduling, and social inbox) make it worthwhile.
This social media planning platform provides customized analytics reports based on your unique requirements and team productivity reports to review your team's performance. It also allows you to monitor audience engagement for every connected social media network.

Automate social media posts: Tips on scheduling
Building a posting schedule looks similar on each platform regardless of your tool preferences. And the same tips and tricks apply. Here are five of them that will help you get started with the social media scheduling tool of your choice:
1. 👀 Focus on relevant content (competition, industry, and audience research). People consume your content because it resonates with their interests, profession, or needs. Therefore, publish updates that instantly get their attention and sustain their interest by being relevant.
2. ⚙️ Adjust content type and style to the network. Each social media platform has a slightly different audience, purpose, and tone. While your Instagram followers typically look for entertaining while educational content, your LinkedIn audience will appreciate more professional and industry-specific posts.
3. 👍 Plan in advance. But not too far. Social media automation tools are there to make your work easier. So use them to your advantage. When you have more time, design useful content that will delight your audience a few days or weeks ahead and set planning on autopilot. But don't overdo it. If you plan content two months ahead, you may find that some of it becomes obsolete by the time it gets published.
4. 🕒 Choose the right time to post. Your content is the most engaging during the first 5 hours after uploading. Find the optimal date and time to let your audience notice you.
5. 📈 Review the performance analytics. Data collected by the scheduling tools will help you better understand your audience and their likes and dislikes. With this knowledge, you can improve your content in the next social media campaigns to appeal to your followers more.
Automate social media posts and get more done
Pushing more content for your audience in less time? The right social media automation tool can help you achieve precisely that, making social updates strategic, frictionless, and stress-free.
However, posts won't write themselves, and even with the best social media scheduler, you still need to follow a winning social media strategy to see results. If you're still in doubt about how to build it or lack the resources to grow your online presence, leave us a message, and we'll do our best to steer you in the right direction. And don't forget to check out the next part of this article soon to learn how to prepare a robust social media schedule in HubSpot!